Termites in Fairfax, VA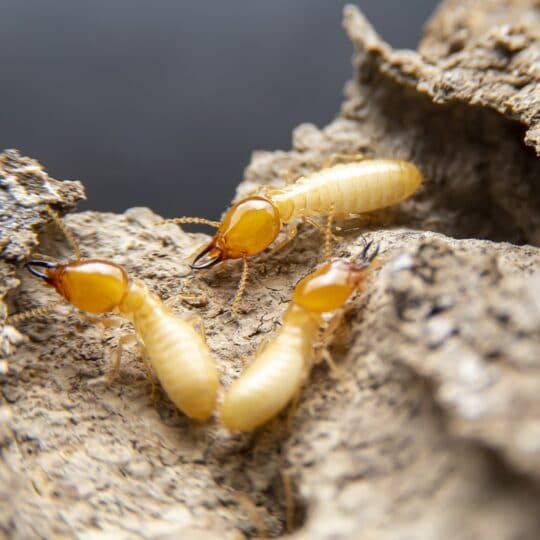 Catching termites early and applying effective treatments is the best way to avoid the costly problems that termites often lead to. On the average, a termite infestation in Fairfax can cost homeowners $3,000 in repairs, as well as the costs of termite extermination.
ExtermPRO has the services you need for termites in Fairfax. We are able to identify termite problems early on, take fast steps to implement the right extermination procedures, and get rid of termites quickly. These solutions enable our expert and friendly team to provide the best results against wood destroying insects. Contact us at 571-620-1168 to schedule termite inspection or extermination.
Our Approach to Termites in Fairfax at ExtermPRO
Unlike other pests that may simply be more of a nuisance, termites are a problem because of their destructive capabilities. A termite colony feeds on cellulose, which is a plant material found in wood and wood products like paper. Termites will eat a path through the interior of wooden items, weakening them from the inside out.
This causes significant structural damage if termites eat through the joists and studs in your home. Termite damage on the exterior of surfaces often shows up like a maze pattern carved into wood that can be a cosmetic issue.
Termites will eat almost constantly from the moment they build their colony near your home, possibly slowing down only in the winter when temperatures drop. As a result, every moment can yield more damage.
ExtermPRO combats termites in Fairfax with a range of different methods that include:
Termite Inspections – Because termites are inside wood, it often happens that homeowners do not spot the actual insects and so they left to search for signs. Yet even these can be extremely subtle. As pest professionals, we know what to look for and where, as well as have advanced equipment to help our search. This lets us detect termites if they are present.
Termite Inspections – By keeping to a routine of termite inspections every year, we can identify termites at the earliest stages of the infestation.
Termite Treatments – When either you or our team finds termites, we move to action quickly with a comprehensive treatment plan, relying on methods such as termite baits and soil treatments, as well as solutions that will block off holes through which terminates may be getting in. We can implement the right solutions to stop termite activity and eliminate the colony.
Preventing Termites – In addition to treating termites that are already active on your property, termite baits and other treatments can continue to work against termites for several months after application, helping to reduce the chance that a new colony will form.
WDIR Inspections – If you need a Wood Destroying Insect Report for a real estate transaction, our team can perform a thorough inspection and provide the certified report to disclose any damage done by termites and other wood destroying insects.
Because termites in Fairfax can potentially cause damage to any property, ExtermPRO provides our termite services to commercial and residential properties with the ability to adjust our treatment plan to best meet the needs and any challenges relevant to your home or business.
About Termites in Fairfax
The termites that infest properties in Fairfax consist of almost entirely a single species – the Eastern subterranean termite. The Eastern subterranean termite has a few features that separate it from other termites and are important when we consider our termite extermination plans.
As a subterranean termite, this termite lives underground, usually within a few feet of your home or other structure on your property that they are eating. The worker termites construct mud tubes, or tunnels, made of mud and saliva across the surrounding soil, sidewalks, and building foundation to give them cover while traveling from their nest to the food source.
A colony of Eastern subterranean termites starts out relatively small and experiences slow growth in the first 5 to 10 years, although a single colony can eventually grow to contain more than 10,000 termites. This offers a significant benefit when you are able to catch termites in the first year or two after the infestation has started, as damage at that point can still be relatively minimal.
This makes it important to create a termite management plan and stay on top of it with the help of ExtermPRO.
What Makes ExtermPRO Fairfax's Best Termite Control Company?
Any warm and humid climate, like ours in Fairfax, is a location where termites thrive. Here, termites are more often a question of when, not if. This means that you want to be able to have a team that you can rely on to manage the extermination process from start to finish. At ExtermPRO, we do this through our:
Modern Treatments – By keeping up with the latest science surrounding termites and termite extermination, we are able to provide the most effective treatment methods.
Professional Team – Our pest professionals will provide all the information you need to feel confident that we have successfully managed termites.
100% Guarantee – So that you are never left wondering if termites may still be around, we guarantee our work and will continue fighting against termites until we can be sure that they are gone.
ExtermPRO has comprehensive solutions for getting rid of termites, as well as other pests in Fairfax with our prevention and extermination services.
Get a Quote for Termites in Fairfax – Call ExtermPRO Today
Termites are never a pest you want to ignore and they will not go away on their own. Instead, let ExtermPRO confront termites our Fairfax pest control with powerful and informed solutions when you notice signs of them, and rely on our services to protect your property. Start the process with a free quote by calling us at 571-620-1168.