Termites in Chantilly, VA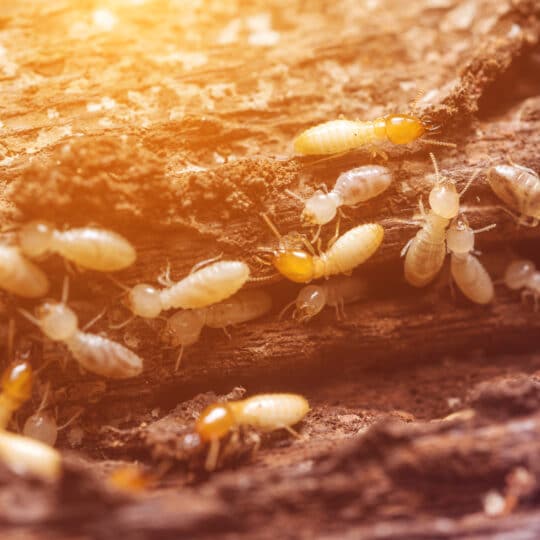 Every year, termites cause several billion dollars in damage around the country and every year, a portion of that damage occurs in Chantilly. The local climate is ideal for termites, which thrive in warm temperatures where humidity can provide plenty of moisture. With the risks that termites cause, you need a team that you can rely on to exterminate termites.
ExtermPRO can get rid of termites in Chantilly with our expert termite extermination services. From termite inspection to treatments that will quickly get rid of termites at your home or business, we offer guaranteed termite control. Call us at 571-620-1168 to get started or get more information about our termite solutions.
Our Chantilly Termite Control Process
Our approach to termite control is comprehensive. As pest experts, we know that leaving even a few termites behind from a colony can be a source of long term damage for your home. This is why we have refined our process to customize extermination at your property. Our process generally includes:
Initial Assessment – Termites can be hard to detect on a property. We use an inspection to determine how extensive the problem is and where a termite nest might be located, giving us the information we need to begin treatment.
Termite Bait Placement – Termite baits are a leading solution for the subterranean termites we have in Chantilly. Bait stations mix a termite toxin with a cellulose food substance that the termites will carry back to their nest , eventually wiping out the entire colony.
Sealing Entrances – If there are holes in your foundation or masonry that create an easy way for termites to get past your facade to the wood inside your home. We will seal those holes off to give your home additional protection.
Soil Treatments – If we know approximately where the termite nest is located, we may choose to treat the soil to kill termites living there.
Monitoring – Baits and other treatments can take a few weeks to complete the treatment cycle. Throughout that time, we will continue to monitor termite activity, making any adjustments to treatments when necessary.
When the process is complete, we can also advise you on ways to prevent termite infestations in the future. The treatments we apply will often have a longer term preventative effect over the coming months and years, and we can also identify potential problems spots such as excessive moisture in the soil or easily accessible wood that serves as a food source for termites with the goal of helping you prevent another termite problem in the future.
Why You Need Professional Help for Termites in Chantilly
Termites are aggressive pests that can do a lot of damage. They are resilient enough that once they get into your home, they will stay and simply continue to find new food and water sources as necessary. They will not leave on their own.
Termites can often get past any obstacles that block them from the source of wood, such as pushing through masonry or aluminum siding in order to access structural elements and other sources of wood inside. Eliminating termites is the only way to end termite damage and avoid additional costly repairs.
Trying to get rid of termites in Chantilly on your own with store bought solutions will often fail to get every termite, or they take months to work. This leaves some of the colony behind or results in months of additional damage. Our services at ExtermPRO work effectively and fast so that we can limit damage.
About ExtermPRO Services for Termites
Termites are a threat to your real estate investment, and you need a company that understands that during the treatment process. As a local termite control company in Chantilly, we are committed to supporting our neighbors and protecting their properties with:
Science-Backed Treatments – The methods we use for termites rely on up to date science, and our own knowledge of termite treatments enables us to customize them specifically for the infestation at your home.
Responsive Team -In addition to our expertise about termite treatments, our team is also friendly and responsive. Our customized services and personalized conversations with you will give you peace of mind throughout the pest control process.
Satisfaction Guarantee – We make sure that no termites are left behind and if you still notice signs after treatment, our guarantee means that we will return to offer additional solutions.
Many of our customers in Chantilly own homes, townhomes, condos, and other residential properties, but termites can invest anywhere, so we also work with commercial properties and others to address termites wherever they occur.
Schedule Your Termite Extermination in Chantilly
Termites can be an extremely challenging pest, but when you have the right team and the right solutions, they can be effectively managed. If you have spotted signs of termites or want to get ahead by scheduling an annual termite inspection in Chantilly, ExtermPRO has all of the solutions you need. Reach out to us 571-620-1168 to get more information and start the process.