Residential and Commercial Rat Control Services with ExtermPRO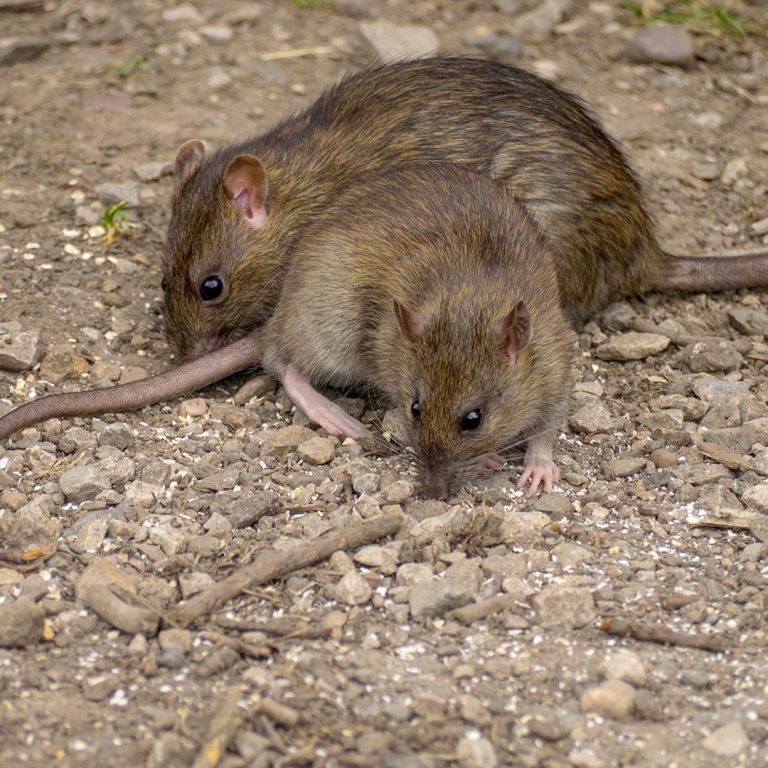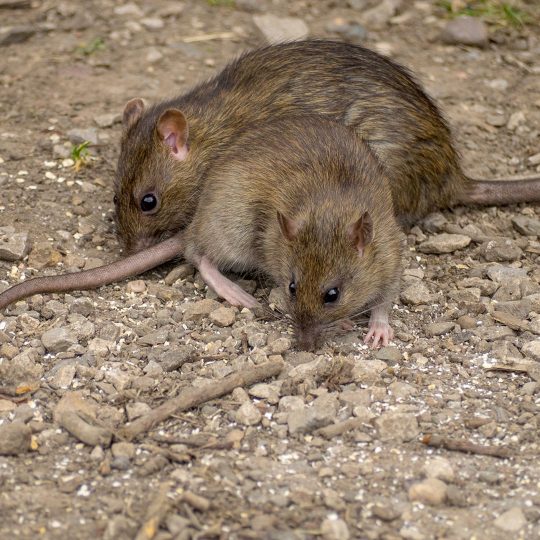 Rats are known vectors of disease. Even large fats can fit through holes as small as a quarter, and these wild animals are intelligent – able to pay attention to your habits, hide from view, and feed on your home as they spread bacteria and diseases throughout your property.
ExtermPRO both eliminates rats and keeps them from coming back. Our rat control in Gainesville is for residential and commercial properties, and uses recurring visits from one of our pest professionals to continuously manage rodent populations at your property.
Whether you have already heard rats scratching in your walls or want to be sure your home is protected against rodents, ExtermPRO has the services to help. Call us at 571-620-1168 to start the process.
Types of Rats Found Locally in Gainesville, VA, Bristow, Haymarket, and More
The Gainesville area is home to two types of rats that may find themselves in your home – roof rats and Norway rats. Both are a nuisance, but there are some differences between them that are important when it comes to identifying which rodent is inside your home.
Roof rats are the smaller of the two. They vary in size between 6 to 8 inches long with a tail of similar length. Their bodies are thinner and longer than other rats, and they have large eyes and ears. As their name implies, roof rats prefer to live higher up in structures in spaces like attics and wall voids. They are strong climbers and can make their way inside through openings above ground level or in the roof.
Norway rats measure between 7 and 10 inches long, plus their tails, and have a thicker appearance than roof rats. Their preference for indoor habitats is for floors closer to the ground, including basements, first floors, and sewers, although they will inhabit attics if necessary. They can climb and swim, making it easy for them to get anywhere in your home.
Rats are territorial with other rodents, but the varied habitats of Norway rats and roof rats make it possible to have both in your home at the same time since they can live apart. Because the same foods attract them, and because they can share entrances, having one infestation can mean you are at greater risk for additional rodent invasions.
Many people first notice rats when they catch sight of one. However, rats are naturally cautious and are likely to hide if they sense a threat. That is why it is more important to pay attention to early warning signs of a rodent invasion. Knowing the other signs of an infestation can make it easier to identify an infestation without needing to see a rat. These signs include:
Droppings
Chew Marks
Rustling
Oily Stains
If you do hear rustling and scratching, the sounds will likely be louder after sunset and throughout the night. Rats are most often nocturnal, although they will come out during the day to find food if need be. The other signs of a rat infestation are most likely to be found in the areas where rats are nesting and the paths they routinely travel to find food.
Why Professional Rat Control is Important for Your Property
Rat traps are readily available at many stores, and it is possible to eliminate rats yourself, but it is often not the most effective or safest method. When you have rats in your home, you want to remove them quickly and permanently.
Rat traps only kill the rats that are currently on your property. They do not offer any form of prevention, and typically if one rat can enter your home, others can (and will) as well, using the same smells and scents to find their way inside. That is why professional rat control is so important. We are able to:
Remove Rats Safely – Rats carry a number of diseases that they can spread through their bites, scratches, saliva, feces, and fur. You may come into contact with these rodent-borne illnesses even if you do not interact with the rats themselves, and removing a trapped rat can put you at risk.
Rats Cause Damage Over Time – Between their chewing and droppings, rats can leave behind extensive property damage. At ExtermPRO, we are able to get rid of rats faster than many DIY rat management projects, decreasing the risk of damage to your property.
Rats Can Be Difficult to Trap – Because rats are hesitant to approach anything new in their environment, they may take several days to approach a trap. You want to have the right trap, the right bait, and the right placement the first time, otherwise it can take weeks or months to get rid of rats.
Their Entry Points Are Hard to Locate – Trapping rats inside your home only eliminates that individual rat, but not the others that are in your property. We are able to locate entry points as small as a quarter and seal them so more rats cannot get inside.
Our professional team at ExtermPRO has experience with all the different ways rats get into homes, where they live once they get inside, and the signs that they can leave behind. We also have the most effective traps, designed specifically for catching the types of rats specific to Gainesville, giving us the ability to get rid of rats quickly.
We are trained in exclusion, the only guaranteed way to keep rats from coming into your home, and can offer all those services at competitive prices.
Rat Removal and Exclusion with Our Pest Protection Plans
Rodent control for roof rats and Norway rats is included in our pest protection services. These are plans that use regular visits – either bi-monthly or quarterly – to your property for ongoing monitoring and pest control. During our rat control services, we:
Look for signs of rats around your home.
Trap and remove any rats we find.
Identify and fix potential entry points.
Point out brush, trash, or other factors that attract rats to your property.
Our goal is to remove rats entirely and provide lasting protection against rats. With regular visits, we can adjust our approach to any changing threats, such as cold weather that might push rats indoors or an increase of rodent populations in your neighborhood. As a local pest control company, we are familiar with all of these risks and can stay ahead of any potential rodent infestation.
Ongoing Commercial Rat Control in Gainesville, Bristow, Centreville, and Beyond
Rats can find food almost anywhere. As omnivorous eaters who will eat any food they can find, the majority of properties can sustain a rodent infestation. Those that serve food like restaurants, cafes, and bars are at increased risk, but rats can also live in:
Offices
Supermarkets
Hotels
Schools
Retail Stores, and More
Trash and crumbs available at these properties is enough for rats. The presence of rodents can be a significant health hazard for those living, working, or patronizing your commercial property, and open you up to reputation or legal consequences.
Identifying and removing rats at the very first sign of infestation – a key feature of our ongoing commercial rodent control – will protect you against health issues, expensive exterminations, and unfavorable impressions from customers.
What Makes ExtermPRO the Top Choice for Rodent Control in Northern Virginia
When you trust rat control to the pros, you want to be sure you are working with a company that is talented, reliable, and puts your safety at the forefront. ExtermPRO is the rodent control company in Gainesville that brings you all of this while guaranteeing that rodents are kept away from your home all year long. We are:
Local – From our extensive knowledge of local rat species and behaviors to our friendly approach to working with customers, working with a local company gives you a pest control experience that is more enjoyable and yields better results than a non-local business.
Effective – Combining experience and the latest pest control science enables us to apply focused rodent control techniques that catch every rat and leave no holes or gaps behind for rats to get in through.
Affordable – With efficient services that offer long term pest prevention, we are able to offer competitive prices on all of our pest protection services. We make it affordable to keep rats out of your home, along with all different types of other pests.
Our pest control plans are also comprehensive. Not only are we dedicating to keeping rats away from your home and family, but our bi-monthly pest control and quarterly pest control also address mice and insects, using eco-friendly pest control methods to exterminate and prevent bugs and rodents.
Get Started with Rat Control at Your Property Today
Rats are not a type of pest you can wait to handle. Their potential to spread disease, breed quickly, and cause damage to your property makes it necessary to get rid of immediately and prevent them from returning.
ExtermPRO is your ongoing partner in finding and eliminating rats at your home or business. Learn more about our rodent exclusion and removal, in addition to our overall pest control, when you call us at 571-620-1168. We proudly serve Gainesville, Centerville, Haymarket, Bristow, and throughout the region.
---
Contact ExtermPRO at 571-620-1168 for a free evaluation by one of our trained rat control experts.
We will evaluate your rat control or other pest control needs and will keep you informed throughout the process.
---