Silverfish Control in Gainesville, VA with ExtermPRO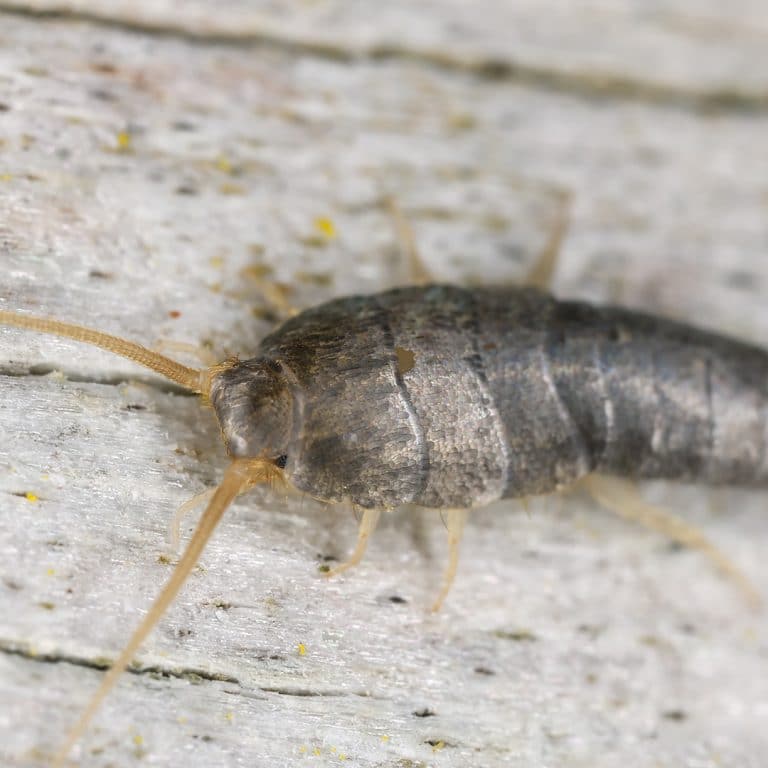 Most people are familiar with spiders, roaches, ants, and many of the common pests that can invade properties throughout Gainesville, VA. But one common pest you may be less familiar with is the silverfish, a frequent home invader that can also cause property damage.
At ExtermPRO, silverfish are one of the many pests we manage with our quarterly and bi-monthly pest control services. Our silverfish control in Gainesville relies on our knowledge of these elusive pests so that we can identify the signs of an infestation prior to extensive damage and give you the tools you need to prevent them. Call us at 571-570-8947 to set up an initial inspection for pests at your home.
What Are Silverfish? Where Silverfish Live in Northern Virginia Properties
Silverfish get their name from their coloring which is usually a blue-silver or white and the way they move which resembles the swaying motion of a fish. They have long, narrow bodies measuring about half an inch with long antennae and a sort of tail that makes them appear even longer. Silverfish can move quickly, scampering across surfaces at a speed that makes them difficult to catch.
These insects need abundant moisture to survive, and the search for damp spaces is what often prompts them to come inside homes. Once inside, they most often live in the parts of your home where water is present and humidity is high such as:
Kitchens
Bathrooms
Crawl Spaces
Basements
Attics
Silverfish may also live in garages and sheds, particularly those that have a leak or poor ventilation. In any location where silverfish are living, they will generally further hide themselves behind appliances, cabinets, boxes, and other barriers, making them difficult to spot.
They are nocturnal and most active at night, although you may see one during the day, especially if they are resting in a sink or bathtub.
Are Silverfish Dangerous?
Silverfish do not bite people or spread disease, but they can still cause immense damage inside your home. These pests consume starches and sugars as their primary food source. Your kitchen pantry contains many sugars and starches, as does almost every item in your home.
Paper, clothing, furniture, wallpaper, and more all contain starch that silverfish will feed on. The paper and glue in books make them a popular target for hungry silverfish. Many homes with a silverfish infestation will see irreparable damage to antique books and vintage belongings, especially when these items are kept in storage. Almost every personal belonging in your home is at risk, however, if silverfish find it.
A primary danger of a silverfish infestation is that the bugs will often live in your home for weeks or even months before you realize they are there. Since they are nocturnal and prefer damp living spaces, you may not see them as easily as other pests. Meanwhile, a growing number of silverfish will be eating away at items and furniture, with a population that will grow and spread quickly.
How Our Silverfish Control Works
With the majority of silverfish damage happening out of sight, it is important to locate silverfish early and take fast action to eliminate them. This requires knowing the signs of silverfish:
Droppings that look like peppercorns
Discarded skins
Yellow stains
Damage from their feeding
It is also helpful to know where to find them, and regular searching to catch those signs as soon as they appear.
ExtermPRO uses ongoing pest control to limit the damage silverfish can do in our customer's properties. With either quarterly or bi-monthly visits to your home or business, we look for silverfish and the signs of an infestation. If silverfish are already inside, we use advanced pest treatments to exterminate them fast while keeping your belongings safe.
But even if you are not already dealing with silverfish inside your home, our preventative pest control works against future infestations. We apply our treatments to the areas where silverfish can pass from your yard into your home to create a type of invisible seal around the property. This long lasting seal works between our visits to keep pests out, leaving you continuously protected throughout the year.
Our quarterly and bi-monthly pest control also have the advantage of removing more than just silverfish from your property. Other local pests to Northern Virginia such as roaches, ants, spiders, stinging insects, flies, and even mosquitoes can be included in our pest protection plans to help you prevent all pest-related damage on your property.
Why Choose ExtermPRO for Ongoing Pest Control?
Between silverfish and all of the other bugs in the area, an unexpected pest invasion can be a costly and stressful event. That is why our Gainesville pest control at ExtermPRO is based on prevention, so you never have to worry about bugs.
Instead of waiting until silverfish can destroy your belongings, we take steps to protect your property against them before they arrive. By treating pest control as a routine step in maintaining your home, we save you time and money while also protecting your family and property.
At ExtermPRO, our silverfish control services rely on:
Comprehensive Pest Control – Silverfish are destructive, but far from the only pest that can be dangerous on local properties. The moisture and sugars that attract them are also desirable for many other pests as well. We use an approach that is effective against many of the pests in this area for maximum protection.
Competitive Prices – In addition to the cost savings of preventive pest control instead of reactive our regular pest control services are affordably priced to make it possible to get reliable pest control within your budget.
Eco-Friendly Methods – Safety is paramount at ExtermPRO. This is why we use eco-friendly pest control technology that is effective against silverfish without putting your health or that of the local environment at risk.
We have been providing local pest control in Gainesville, Haymarket, and Bristow for many years. In that time, we have seen how damaging silverfish can be, but have also mastered the best ways to prevent them from overrunning your home or business. Our extensive experience with silverfish and other local pests makes our bi-monthly or quarterly pest control an effective way to manage any possible insects, spiders, and more on your property.
Silverfish Control at Businesses and Commercial Properties
Silverfish in commercial settings are a similar problem, and can cost you money if they contaminate food or cause physical damage. Since moisture, humidity, and starchy or sugary substances are available for silverfish at almost any type of property, this is a pest that your property might be exposed to.
Our recurring pest control plans at ExtermPRO are available for businesses and property managers as well. With options for commercial properties of all sizes, apartments, condos, and more, we can adjust our pest treatment methods to work to get rid of silverfish or any of the pests that are inside your business.
We know how problematic pests like silverfish can be for businesses in the area, so we use careful attention to detail to identify the signs and completely eradicate them on your commercial property. Our commercial pest control services are affordable and take the work of managing pests at your business out of your hands.
Enroll in a Pest Protection Plan Today
The leading way to prevent silverfish damage is to stop it before it starts with preventative pest control. ExtermPRO has multiple pest treatment options to meet your specific needs. To learn more about what we offer, get a price estimate for pest control at your property, and find out how we stop silverfish, call us at 571-620-1168.
---
Free Quote
Silverfish Control Services
Contact ExtermPRO at 571-620-1168 for a free evaluation by one of our trained silverfish control experts.
We will evaluate your silverfish control or other pest control needs and will keep you informed throughout the process.
---