Stink Bug Control in Northern Virginia with ExtermPRO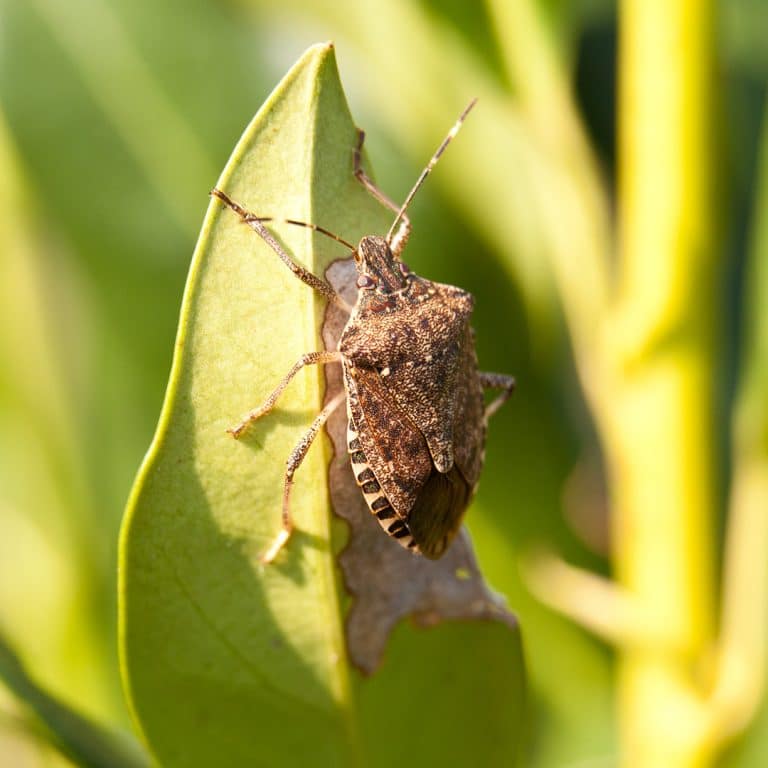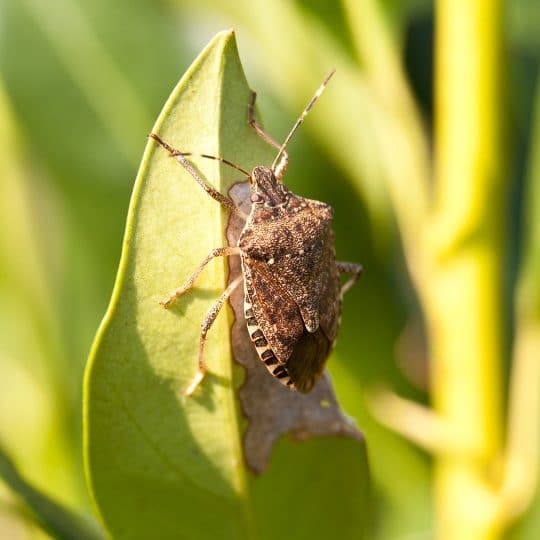 Stink bugs don't bite. They don't sting. They don't spread disease. What stink bugs do is described by their name. They release a repulsive odor, both as a defense mechanism and in the event that they are crushed. Here in the Gainesville, VA and Northern Virginia area, stink bugs are everywhere, which means that your property is frequently at risk for stink bugs getting inside and, once there, potentially getting crushed as you try to remove them.
ExtermPRO eliminates and prevents stink bugs with ongoing treatments designed to create a barrier around your property that these pests cannot cross. With bi-monthly and quarterly pest control, we find the places where stink bugs can get inside and monitor the pests around your home to stop stink bugs before they become a problem. Trust us to eliminate stink bugs at your residential or commercial property and contact us at 571-620-1168 to schedule your appointment.
How Stink Bugs Get into Homes
Stink bugs are an exceedingly common pest throughout Gainesville, Centreville, Haymarket, and the surrounding area. Most of the time, these pests are outside, where they can be mostly ignored (although, in large populations, stink bugs can also be a problematic garden pest).
The problem is that stink bugs frequently find their way inside of properties in search of food and shelter. This can be especially problematic during the winter when temperatures cool, as hordes of stink bugs will come inside to overwinter in the warmth of homes. This is when stink bugs really become a nuisance.
To come inside, stink bugs can squeeze through:
Cracks Around Windows or Doors
Damaged Window Screens
Exhaust Fans
Cracks in Siding
They like light, so porch lights can bring them to your home at night. Inside, you might find them congregated on sunny walls or around ceiling lights. Otherwise they may fly around rooms and crawl on walls and ceilings.
Risks of Stink Bugs in Gainesville
As the name implies, stink bugs have a terrible smell. This comes from glands on their abdomen which releases the odor when the bug feels threatened. It also gets worse if you crush the bug, which means they are more difficult to remove than pests like spiders, which can simply be stepped on or smashed.
A large stink bug infestation can make your home nearly unlivable and be a problem throughout the winter. Yet even just a few extra stinkbugs can be problematic and inconvenient. Since they are attracted to lights, stink bugs are also likely to die inside light fixtures where they can continue to cause a smell that pervades the room.
Bi-Monthly and Quarterly Pest Control for Stink Bugs
Fall and winter are particularly challenging when it comes to stink bugs as the warmth of homes attracts them. But they are active all year and can be a continuous problem. This makes preventative methods the most effective way to manage stink bugs.
Our preventative pest treatments occur on a quarterly or bi-monthly schedule. With each visit, we:
Inspect Your Home for Entrances – Stink bugs get inside by crawling through the tiny cracks and gaps most homes have. You might not notice these openings yourself, but pests will. We also complete a thorough inspection of your home to find these entry points.
Apply Exterior Treatments – We treat every entry point we find with long lasting pest control solutions, essentially creating a "seal" around your home. This deters stink bugs from trying to come inside during the fall.
Use Interior Extermination – If necessary, we can use interior solutions as well as the exterior solutions to exterminate stink bugs that are already living inside your home while we prevent new ones from entering.
We also use our quarterly and bi-monthly pest control to protect your home from the other pests that are common in the Gainesville, Virginia area such as ants, roaches, spiders, and stinging insects. Our comprehensive pest treatments seal off those small cracks and gaps around your home that any of these pests can enter through to make it impossible for all types of bugs to get into your home.
Stink Bug Control for All Property Types
Because of their unpleasant smell, stink bugs can be an issue at any property where people are living or working regularly. There is no risk of disease or property damage, but the smell is an ongoing nuisance. Our services ensure you never have to deal with the small of stink bugs with:
Residential Pest Control – Stink bugs will often move into the wall voids of homes in the fall, spend the winter months hiding there, and become active in your living spaces in the spring. Sharing your home with the bugs and their potential odor is an unpleasant prospect.
Commercial Pest Control – Although technically harmless, stink bugs have the same effect as any bug in a business – they will hurt your reputation if customers find them. With their smell, stink bugs can be even more obvious than other pests and create an unwelcoming environment even if customers do not spot them.
We use the same basic principles of integrated pest management at each property while adjusting them to meet your more specific needs. Whether that is in terms of frequency based on risk factors in your area or the scale of treatment, we can design a plan that is effective for any home, apartment, business, or other property type.
Why Choose ExtermPRO for Stink Bug Extermination?
Brown stink bugs were introduced to America in 1998 and have since become one of the pest species most frequently found in Virginia homes, while other stink bugs, including the green stink bug, are still prevalent in the area. Keeping them out of your home needs a team experienced with the specific challenges caused by these pests and others.
ExtermPRO are local pest professionals. We have worked in the Gainesville area with customers in Warrenton, Haymarket, Centreville, and other local towns for years. During this time, we have seen the stink bug population become prominent in our area and know how these pests react to local seasonal changes.
Using our years of knowledge in addition to up to date training in the latest pest control techniques, we get rid of stink bugs and other bothersome pests with:
Professional Service – Arriving on time, treating you and your property with respect, and sharing our process with you are some of the ways we consistently deliver professional service and dependable results.
Eco-Friendly Treatments – We only use pest control solutions that are nontoxic so there is no concern for the safety of adults, children, or animals on the property.
Attention to Detail – Stink bugs and the ways they get inside are hard to spot. We take immense care with all the properties we work at to be sure that we find each and every bug and secure every opening against them.
We also guarantee our service and know that our pest protection plans are effective enough to keep bugs out between our scheduled visits and all year long, although we will always return if stink bugs come back in the interim.
Get Started with Ongoing Pest Treatments Today
The top way to keep pests out of your home is to start the pest control process before you even see bugs. If stink bugs are already inside and letting off an unpleasant odor, ExtermPRO acts fast to get your home back to normal and keep out stink bugs in all seasons. Call us at 571-620-1168 to get a quote and find out which of our pest control services are best for your home and budget.
---
Free Quote
Stink Bug Control Services
Contact ExtermPRO at 571-620-1168 for a free evaluation by one of our trained stink bug control experts.
We will evaluate your stink bug control or other pest control needs and will keep you informed throughout the process.
---