Termite Control in Chantilly, VA from ExtermPRO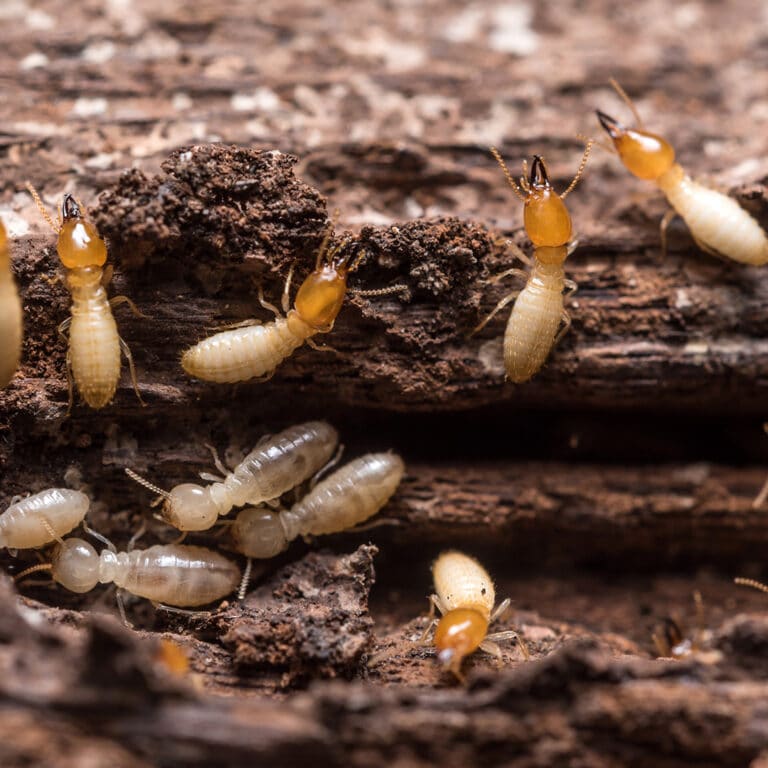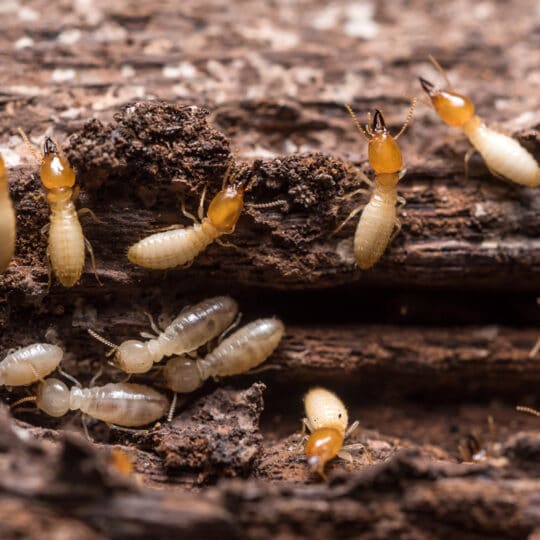 Termites thrive in areas that offer heat and humidity, making Chantilly a prime location for the local Eastern subterranean termites and putting many of the homes and other properties in the area at risk for costly termite damage.
ExtermPRO is a termite exterminator in Chantilly offering termite inspections, termite treatments, and ongoing termite monitoring. Each service is provided by a friendly and experienced team of professionals. If you are concerned that your home has termites or to take preventive steps against a future infestation, contact ExtermPRO to get rid of termites in Chantilly.
How Our Chantilly Termite Extermination Works
Termites are a pest that is almost impossible to get rid of on your own. They will almost never move out on their own since a single structure can sustain them for years. You also generally cannot interrupt their food supply because they will simply find another entrance to your home and the wooden components there. Trying to target their colony directly is difficult as well since they often live deep underground, potentially under structures, where you cannot reach them.
At ExtermPRO, we are able to design an effective plan for exterminating termites at your home or business. Our solutions for managing termites include:
Termite Inspections – Despite the immense amount of damage they do, termites are often not easy to spot since their damage happens out of sight. Our team knows exactly what to look for, making it possible for us to identify termite damage early on with annual inspections. In addition, we start treatments with an inspection so we can determine the right approach for exterminating them.
Termite Baits – We use a termite bait system with strategic placement of baits around your home or any structure where termites could be an issue. As termites take the bait back to their colony, we can successfully remove all termites from your property.
Soil Treatments – For more aggressive or wider spread infestations, soil treatments will make the soil around your home uninhabitable and impossible for termites to cross with fast results.
Ongoing Monitoring – Termite control for an active infestation can take some time. Baits and termite treatments will need a few days to disperse throughout the colony. Our team works with you throughout the entire process until we can be sure the colony is gone.
Wood Destroying Insect Reports – For real estate transactions in Chantilly, we can report on existing damage and insect activity at a property and provide a WDIR report.
With our experience and knowledge of termites in Chantilly, we can design a termite treatment plan to identify and stop termite damage, customizing our approach to your specific home and termite challenges.
Why You Need Professional Chantilly Termite Control?
The average termite infestation cost homeowners $3,000 in repairs due to the structural and visual damage that termites will cause. The key to keeping these costs down is to find and address damage as soon as possible.
The subterranean termite species we have in Chantilly has very slow growth during the first years after establishing their colony. By catching damage during this time, you can significantly limit the impact of termites. After 5 years, a termite colony may have reached over 10,000 insects, meaning that the damage will happen far more rapidly. Termites are also eating 24/7 and will eat all year long.
The resilience of termites and their ability to find food on almost any property, including residential and business properties with steel construction or masonry exteriors, makes termites a pest that you should never ignore.
Instead, you need a team with:
Guaranteed Extermination – With termites, if reproductive members of the colony are left behind after extermination, the infestation will simply come back. We continue treatment until we can be sure that termites are gone for good.
Expert Team – In addition to knowing what to look for and how best to exterminate termites, we can also share the knowledge you need to help keep your home safe, minimize damage, and prevent future termite colonies from moving in.
Eco-Friendly Treatments – We take working with your property and family very seriously and use eco-friendly treatments that are highly effective against termites but safe for your family.
ExtermPRO has the termite services and pest control in Chantilly to protect your home whether you need an annual termite inspection or want to put a fast stop to termites and get rid of wood destroying insects at your property. Get started with a free estimate for our termite control at 571-620-1168.