Effective Treatments for Mosquitoes in Centreville, VA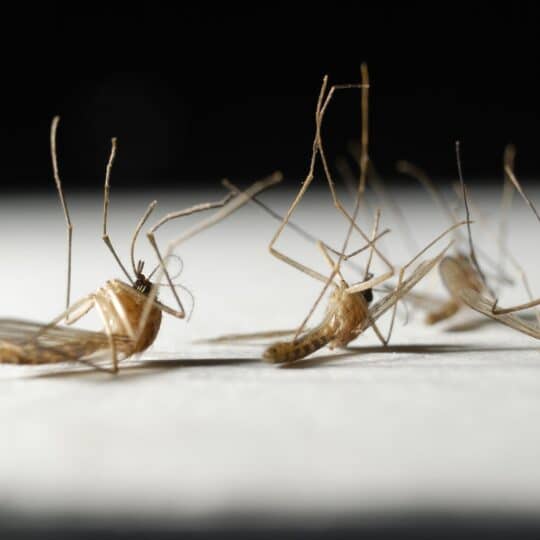 During the summers, homes in Centreville can be surrounded by Asian tiger mosquitoes. This aggressive biting insect is responsible for 9 out of 10 mosquito bites, which in addition to being itchy and annoying could also be a source of West Nile virus and other illnesses. Despite mosquitoes Asian Tiger mosquitoes being aggressive, avoiding bites should not have to require copious amounts of bug spray every time you go outside.
ExtermPRO can help with mosquitoes in Centreville with bi-monthly mosquito treatments that help clear your entire backyard of mosquitoes. Our effective treatments against mosquitoes and a range of other summer pests are delivered by our friendly and professional team, making us the leading way to get rid of mosquitoes around your home or business. Call us at 571-620-1168 to get more Information about our mosquito control.
About Our Centreville Mosquito Services
There are multiple strategies for reducing the number of mosquitoes. Removing any objects that will collect water from your yard will limit the number of places where mosquitoes can lay eggs. The Asian tiger mosquito is a container breeding mosquito that will lay its eggs in small to medium sized containers that fill with water, such as:
Buckets
Ponds
Trash
Bird Baths
Children's Toys
Dog Bowls
By removing these and any containers that hold water, or at least emptying them regularly before mosquito larvae can grow, you can significantly reduce the number of young mosquitoes on your property.
But this does not do anything for the adult mosquitoes, and with the warm and humid climate in Centreville and the pervasiveness of Asian Tiger mosquitoes and other mosquito species, you can still experience mosquito bites. Since adult mosquitoes are the ones responsible for spreading illnesses, they are the ones that are most important to worry about.
Mosquito treatments from ExtermPRO work against the adult mosquitoes that are living around your property using eco-friendly methods. We spray our treatments onto bushes and grass where adult mosquitoes will live during the day since the shade protects them from harsh sunlight.
Our treatments target mosquitoes in a variety of ways including:
Eliminating Adult Mosquitoes – The treatments will kill mosquitoes instantly on contact. This gives you an immediate reduction in mosquito numbers.
Repel Mosquitoes – Mosquitoes are sensitive to the treatments we use and will avoid areas that we have been over, often keeping away from your yard altogether.
Lasting Effects – Our mosquito treatments will last for at least 2 months and continue to work repelling mosquitoes throughout that time before we return to refresh treatment.
In addition to our treatment applications, we can also provide more feedback on your yard and conditions through which you may be inadvertently attracting mosquitoes, such as areas of standing water and overgrown vegetation.
Because we manage mosquitoes on multiple fronts, we can give you the best protection from mosquitoes in Centreville.
What Makes Professional Mosquito Control Important in Centreville?
Although mosquitoes are extremely common in Centreville, this does not mean that you should not take precautions against them. The mosquitoes in the area that bite, primarily the Asian tiger mosquito and the common house mosquito, both avid biters, will feed throughout the day and evening. These two species can transmit West Nile virus, St. Louis encephalitis, and Zika virus.
Once mosquitoes are born in the area around your home, they will likely stay in the vicinity, continuing to lay eggs and expand their population. This causes the number of mosquito bites and risk of mosquito transmitted illnesses to increase over the course of the summer.
Between the number of mosquitoes and risk factors on nearby properties that you cannot control, it is important to take as strong of measures as possible at your own property to get mosquitoes under control and manage them.
ExtermPRO is the top choice for mosquitoes in Centreville. Our approach to pest control at ExtermPRO centers around prevention and ongoing control by always keeping pests at a manageable level. This enables us to make mosquito control more affordable and effective.
We provide mosquito control as part of our bi-monthly pest protection plan. This pest prevention plan works against common household pests and rodents, including spiders, roaches, ants, flies, spiders, mice, and rats, as well as mosquitoes. We use specific treatments to create a border around the exterior of your home and focus on removing mosquitoes from the outdoor spaces around your yard.
All of our pest control solutions for mosquitoes in Centreville are:
Eco-Friendly – We only use treatments that are safe to use around animals, children, and adults so that there are no risks on your property after you have received pest control treatment from ExtermPRO.
Long Lasting – Mosquito treatments and other pest control options will last for at least 2 months, effectively keeping biting insects away from your home and out of your yard during that time.
Customized – At each home we work at, we adapt treatments in a way that will have the best results against mosquitoes based on the size and type of your property, how bad mosquitoes are in our area, and other related information.
Our innovative and effective solutions offer the best way to manage mosquito problems in Centreville and keep pests at your home or business under control.
Let ExtermPRO Help You Get Rid of Mosquitoes in Centreville
Whether you want a mosquito free summer or find yourself already inundated with mosquitoes, now is a great time to call ExtermPRO. To get started with our pest control solutions in Centreville, contact our team at 571-620-1168 to get more information about mosquito protection plans and start the process with a price quote.
---
Special Offer for New Customers
$50 Off Complete Pest Control Services
Hurry! Offer Expires September 30, 2023