Storing Holiday Decorations to Keep Pests Out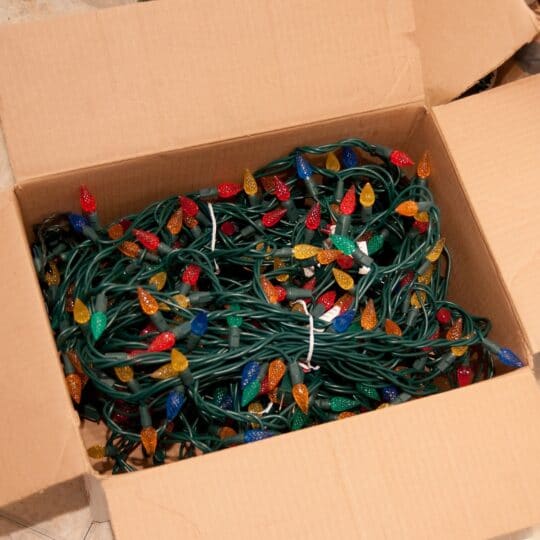 As the holidays wind down, it is time to put away Christmas lights, tree ornaments, and all the holiday knick-knacks until next year. But if you want to avoid opening up storage boxes next year to find rodents, droppings, spiders, ants, and other pests nesting inside, you will want to be sure you are packing and storing your holiday items correctly now.
Cardboard boxes stuffed with ornaments wrapped in tissue paper and tangles of light are a perfect shelter for pests. They offer dozens of hiding places and materials for nest-building. Depending on what you store, there may be food for bugs and rodents as well.
Tips for Preventing Pests in Holiday Decoration Storage
Many families store their Christmas decorations in attics, basements, and garages – all places where pests are already likely to be. If you have items that will attract pests in your boxes, there is a high chance bugs, mice, or rats will find their way inside. You can prevent pests in Christmas decorations by:
Checking for Pests Now – Look over items like garlands, wreaths, and string lights before you put them away to make sure no pests are clinging to them. Inadvertently bringing in a couple pests could lead to a large infestation in your attic or basement.
Using Plastic Containers – Cardboard boxes are plentiful and cheap after Christmas, but they are also easy for bugs and rodents to chew through. Invest in plastic containers and lids instead to keep pests from getting into boxes. In a pinch, you can also wrap smaller cardboard boxes in sealed plastic trash bags.
Storing Scented Items Separately – Any candles or other items with holiday scents should be stored in their own plastic box, since they are most likely to draw pests. The exception here is cinnamon. Cinnamon is a natural pest repellent and cinnamon sticks in wreaths and garlands can help keep pests away.
Disposing of Food Items – Gingerbread houses, popcorn garlands, cookies, and any other decor made from edible items needs to be thrown out. Even if the items are no longer edible for people, such as when they're stale and too hard to eat, pests can still consume them. Remake food-based decorations next year or opt for inedible decorations instead.
If you use a live tree, you will also need to dispose of it properly. Placing trees on the curb for long periods of time can provide shelter for rats. To avoid this, coordinate a tree pick-up as soon as you can after Christmas and take your tree out just before pick-up.
Unfortunately, pests and rodents are creative when it comes to finding food and shelter, and you may find an infestation around your holiday decoration boxes even if you have taken preventative measures. ExtermPRO is a local pest control company that can keep pests under control and out of your home during the holiday season and all year round. Call us to set up a free evaluation.