Termite Control in Leesburg, VA with ExtermPRO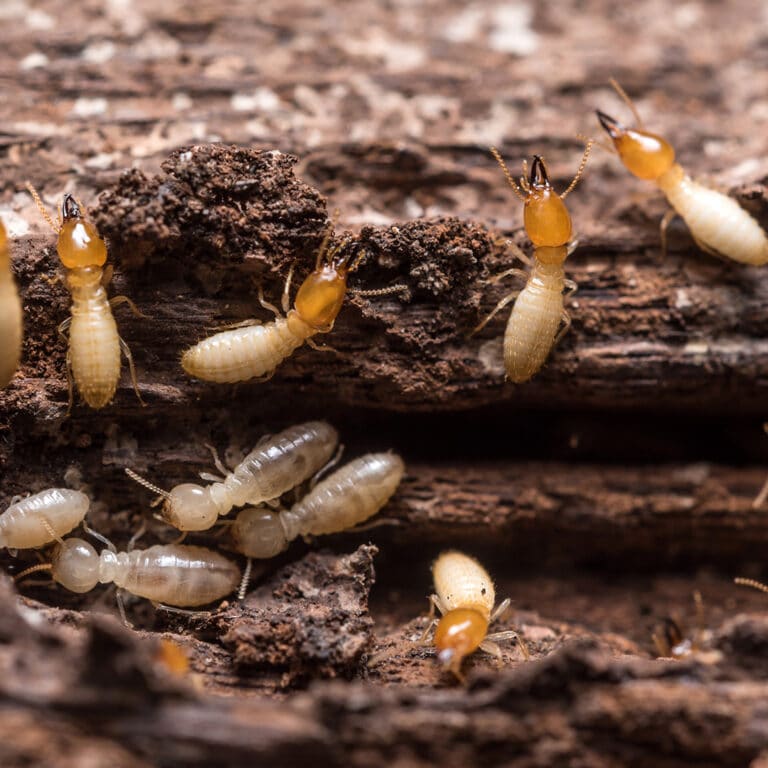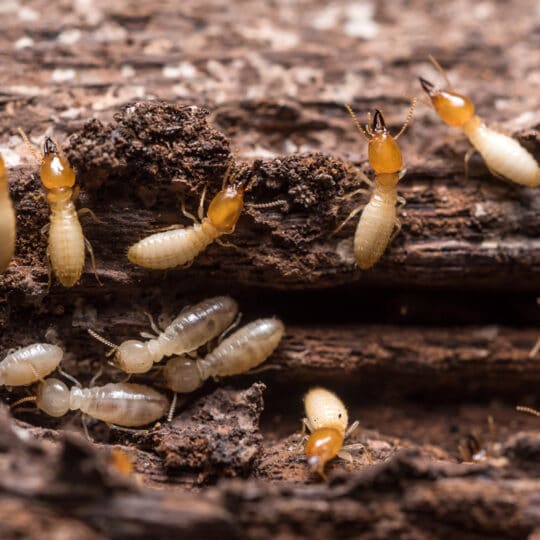 The weather in Leesburg is warm and comfortable for most of the year. But our location in Northern Virginia also means we have relatively high humidity in most seasons, and this creates the ideal environment for termites.
As a species that needs warmth and moisture to survive, subterranean termites are a notable risk for homeowners in Leesburg where they can cause property damage almost year round.
ExtermPRO is a local Leesburg termite control company that knows first hand the risk of termites and the devastation they can cause for homeowners. We combat the damage termites can do with early intervention and fast acting treatments, all provided with our professional service. Schedule an inspection at 571-620-1168.
Termite Treatments and Inspections for Leesburg Properties
The most challenging part of treating termites for homeowners is often recognizing that there is termite activity in your home. Termites stay almost entirely hidden in the wood they eat or in their nests, making it hard to detect their presence until there are signs of damage.
Professional termite inspections from ExtermPRO can identify termite and termite colonies. Our team uses an experienced eye and advanced technology to termites that may be causing damage out of sight.
Scheduled, annual inspections are an essential part of a home termite protection plan since they make it possible to find termites shortly after they move in and put a stop to damage early on. But inspections are also available any time you suspect termites so that we can confirm activity and make a treatment plan with:
Termite Soil Treatments – Termites in Leesburg live in the space adjacent to their food source. We can apply liquid termiticides to the soil around your home to make it uninhabitable for a termite nest and make it impossible for termites to cross it to get to your home.
Termite Baits – Baits contain a termiticide that stalls termite growth disguised as a food-like substance. When termites take the bait back to their nest, it will limit colony growth and can be helpful both as a treatment and preventative.
Additional Methods – Treatments like termite foam and fumigation are also available. The more extreme options like fumigation are almost never necessary for infestations in Leesburg, but are available when termites have spread extensively throughout a building and other methods are not powerful enough.
We use a variety of treatments to achieve termite elimination at ExtermPRO. This provides us with options to customize a treatment plan that is safe, non-invasive, and within your budget while also being effective against the termites in your home.
About Termites in Leesburg, VA
The specific species of termites in Leesburg are the eastern subterranean termites. Like all wood destroying insects, they will tunnel and eat their way through any wooden items in your home, most notably in the home's structure. The substance they are actually consuming is cellulose, an organic material found in plants.
Wood is a prime source of cellulose, but papers and fabrics can provide a food source for termites as well. This can lead to termites in your home eating:
Joists
Support Beams
Door and Window Frames
Wood Flooring
Drywall
Furniture
Books, Documents, and Boxes
Termites damage these materials by chewing through cellulose-based objects and hollowing them out. Unless termites are discovered early, this damage often requires replacement or reinforcement to prevent structural weakness around your home. If termites begin to eat furniture, records, and keepsakes, those items are generally not able to be reclaimed.
Nearly every property in Leesburg can experience a termite infestation. This pest is extremely good at locating wood, and can even get around non-edible materials in the way, such as cement and aluminum. This also means that once termites build a nest on your property, they are unlikely to ever leave on their own.
Instead, the termite colony will continue to grow. In cases where subterranean termites go untreated, colonies can reach hundreds of thousands of insects and establish secondary colonies in other locations around your home. Knowing what to watch out for and who to call at the first sign of a problem is the best way to prevent these damages.
Who We Are at ExtermPRO
Our mission at ExtermPRO is to provide the leading termite control in Leesburg by relying on science-backed treatments and superior customer service. This lets us deliver dependable pest control from a team that you can trust has your best interests in mind throughout the entire process. Our termite services are:
Fast and Effective – By using the latest technology and treatments to fight pests, we can get rid of termites quickly and without leaving insects behind that can continue to cause destruction after treatment.
Experienced – We have worked extensively with local properties, subterranean termites, and the range of treatments we use. Along with our training, this experience helps us choose the best solution every time.
Tailored to Your Needs – Treating a termite infestation with our most aggressive methods is often more than most homeowners need. Instead, we use an inspection of your home to guide our treatment and provide exactly what you need.
This approach to pest control is what allows us to offer incredible prices for termite treatments, as well as a satisfaction guarantee. We are confident in our work and make sure we get the solution right the first time.
Get Rid of Termites Fast with ExtermPRO
For termite control at your home, business, or another property in Leesburg, ExtermPRO offers the range of services you can rely on. We can be your trusted partner in termite management and help you keep your home safe. Learn more about our services by calling us today.
---