Termite Control Chantilly, VA with ExtermPRO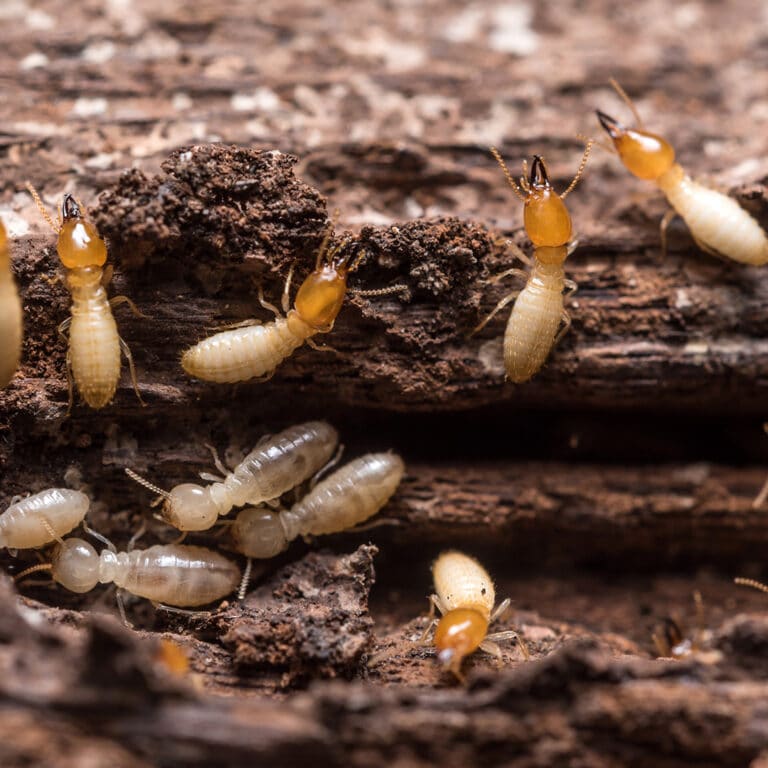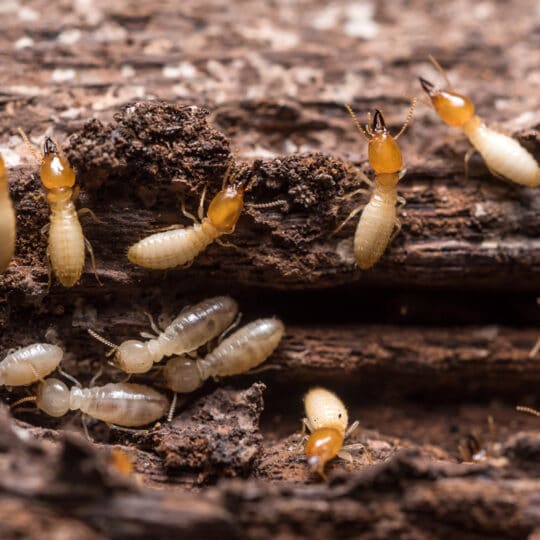 Many homes in Chantilly rely on housing materials like brick and vinyl siding for their attractive look and long lasting exteriors. But even without wooden siding your home in Chantilly is still at risk for termites that will make their way past brick and plastic siding to the wooden structure, framing, and features inside.
ExtermPRO is a termite control company in Chantilly that can stop termite damage at your home. We use customized solutions, an experienced team, and an attention to detail to provide the best local termite control at homes and businesses. Contact us at 571-620-1168 for a free estimate.
Advanced Termite Treatment and Prevention in Chantilly
There are several factors we consider when planning how to treat termites at your home. We want extermination methods that are effective, safe, and within your budget. At the same time, we avoid excessive treatments that are more than you need.
At ExtermPRO, we have a wide variety of termite extermination techniques that includes scientifically-backed solutions and proven methods. We assess the termite challenges you are facing to build a treatment plan that might include:
Termite Baits
Soil Treatments
Wood Treatments, and More
With our options, there is no termite infestation we cannot eliminate. We have worked with properties where termites have been eating through beams and joists for years, and homes with multiple colonies. Our team is able to successfully get rid of these infestations as well as those in the earlier stages.
Professional annual termite inspections are another great option for termite management and prevention. Because Chantilly is a high risk area for termites due to local weather conditions, homeowners should get an annual termite inspection to catch and treat new infestations early on.
ExtermPRO can also provide guidance in termite prevention with options to apply treatments that will keep termites out or information you can use to make your home unsuitable as a habitat for termites.
Signs and Damage from Termites
Even with an extensive termite infestation, it is still rare for homeowners to actually see a bug in the early stages. The species of termite in Chantilly – called the eastern subterranean termite – spends its time either underground in the nest or inside the wood the termites eat. This is what enables many termite infestations to go undetected, and the damage to become widespread.
Knowing the signs of subterranean termites makes it possible for you to intervene early, saving you on the cost of repairs and the hassle of a more invasive extermination process. The most evident signs include:
Swarming Termites – During the spring, subterranean termites swarm to find new locations to build their nests. If you see flying termites at your property, follow-up to be sure they did not settle at your home.
Discarded Wings – Flying termites will shed their wings when they choose a new home. These winds can collect in corners and cobwebs around your yard, and indicate the nest may be nearby.
Mud Tubes – These are tunnels the termites construct from mud, saliva, and droppings to protect their journey between their nest and food source. This is one of the most obvious signs of subterranean termites, and you may see mud tunnels on sidewalks and foundations.
Damaged Floors – As termites eat, they can weaken the structure that supports your floors and let moisture in. This leads to creaking, buckling floors, and tiles that come loose when you step on them.
Wall Stains – Termite damage to walls looks similar to water damage. Wallpaper may start to peel, paint will bubble, and stains can develop, all of which may indicate termites. Cracks in the walls could mean shifting as a result of termites.
Hollow Noises – Because termites are hollowing out the inside of wooden beams, you will start to hear a hollow echo when you tap on floors, walls, and other places that have termites inside of them.
If you notice a water leak around your home, this is also an indication to look for termites. Subterranean termites are drawn to water, needing moisture and humidity to survive. In the process of repairing a leak and any water damage, you may also want to check for termites.
An inspection can help you identify or confirm these signs as well. Because some signs may be mistaken for water damage or can still go unnoticed, having a professional from ExtermPRO survey the area around your home will let you be sure that you can intervene before an infestation can do more damage.
Why ExtermPRO Termite Treatments are Right for Your Home
ExtermPRO is a locally owned and operated business in Chantilly, and our small business approach to pest control comes through in our dedication to our customers.
We respect all of the properties we work with through high quality service backed by a satisfaction guarantee. At the same time, we know it is also important to use termite treatments that work, which is why we have invested in the latest solutions.
There are many more benefits that set our termite services apart from the competition, including:
Licensed and Insured – We are licensed to provide termite control in Northern Virginia, so you can trust both your home and your family's safety to us.
Local Experts – Termites are different in different areas. Because we work solely in Northern Virginia, we have in-depth knowledge of local termite species and the best ways to exterminate them.
Professional Service – Our team understands the stress you are under when dealing with termites. We show up on time, ready to provide service, and are available to answer all your questions during the process.
Depending on the type of home your own in Chantilly – single family home, duplex, townhouse, or condominium – we can help you choose the right termite extermination for your home. We also work with property managers for apartments, condo complexes, and commercial properties with comprehensive treatments that we can adjust to the size of your property and the spread of the infestation.
Call Today for the Best Termite Control in Chantilly, VA
Whether you have noticed the signs of termites or you want to get started with a termite prevention plan at your property, ExtermPRO can help. Call us today for the most effective termite solutions in Chantilly at competitive prices.
---