Pantry Pest Control in Virginia with ExtermPRO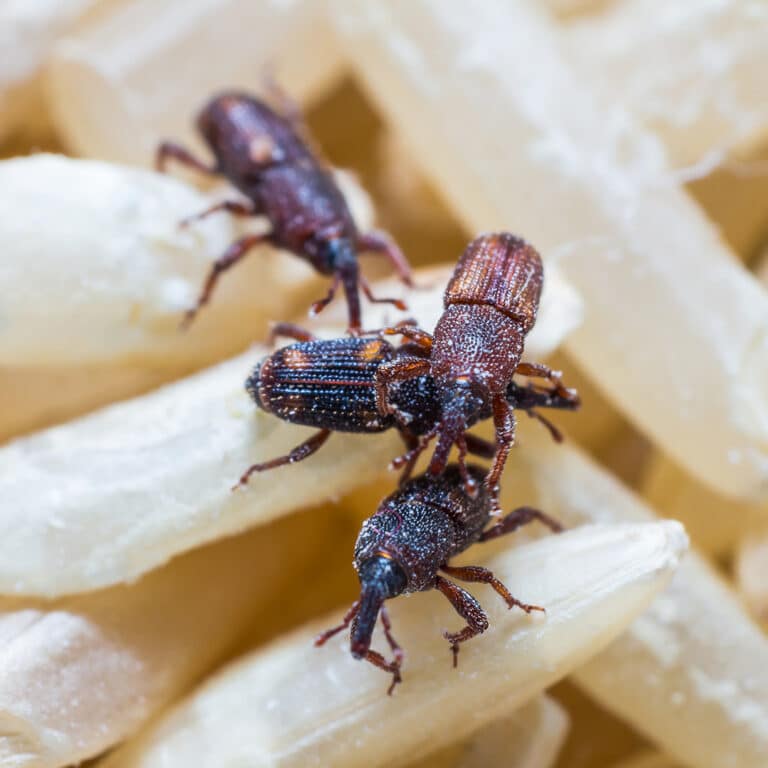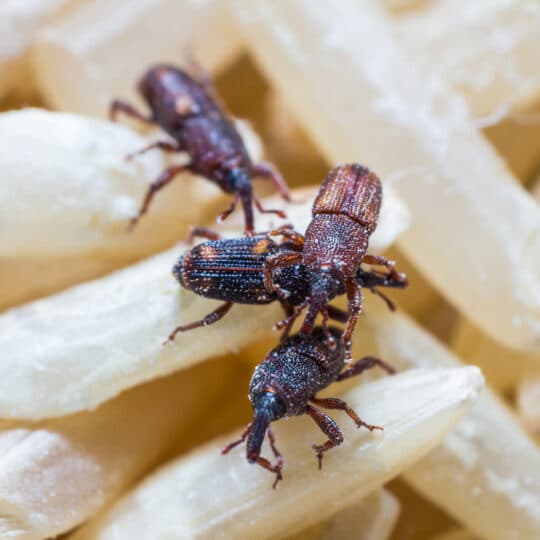 Kitchens are an ideal location for many types of bugs and rodents where crumbs, unsealed food, the occasional spill, or a dirty dish can all provide a feast for pests. But there is a select group of beetles, moths, and their larvae that are better known as pantry pests since they often eat, live, and breed directly in the food that you store in your pantry. These pests get into your pantry in a few different ways, but once they are inside, it is difficult to get them out again.
ExtermPRO is a Northern Virginia pest control company that has all the tools you need to eliminate pantry pests and keep them from coming back in the future. Our services can protect homes and businesses in Gainesville, Bristow, Warrenton, Fairfax, Centreville, and other cities in the area with a reliable and friendly team and a satisfaction guarantee. Contact us today at 571-620-1168 to schedule a pest control visit.
Types of Pantry Pests in Northern VA
Pantry pests are challenging for a number of reasons. First, there is a wide variety of them so you are not simply combating one pest but several species of beetles and moths. These species include:
Grain Weevils – Weevils are a type of beetle. Grain weevils in particular are reddish brown in color and have a long body with a protruding snout. Most weevils will have wings but are not great flyers. Once inside food packaging, the adult female weevil will create a hole in individual grains of rice, seeds, corn, and other food items and lay her eggs. When the eggs hatch, the larvae feed on the grain around them until they grow into adults.
Cigarette Beetles – As an adult, the cigarette beetle is 2 to 3mm long and oval in shape. It is dark brown, sometimes with a red hue. Beetles of this species will lay their eggs inside or on top of food, and the larva will continue to eat the surrounding food for about 30 to 90 days before they make cocoons inside the flour or grain transform into adults. These beetles fly well and can move easily from place to place.
Drugstore Beetle – The drugstore beetle is light brown with an elongated oval body that is up to 3.5 millimeters. Like weevils, drugstore beetles will bore into food and lay up to 75 eggs. While most pantry pests will eat a wide range of food, the drugstore beetle might eat the largest number. The name comes from its choice of feeding on prescription drugs, but it will also eat most foods in your pantry as well as non-food items such as leather, wool, and hair.
Confused Flour Beetle – This beetle is a dark brown beetle with a long, shiny body. They are one of the more common pantry pests, however they will only eat grains that have been damaged or ground, such as flour. The name comes from the fact that it is often confused with the similar looking red flour beetle.
Indian Meal Moth – The Indian meal moth has a long and narrow body with wings that are gray and red with black stripes. But it is the larva of Indian meal moths that damage food. The adults lay their eggs on food and when the larvae hatch, looking like a small yellow worm with a brown or black head, they will both consume food and create vast silk webs that can capture dirt and additionally contaminates.
Many of these beetles and moths are extremely small, especially as larvae and eggs when they are most likely to be introduced to your home. Some, such as the Indian meal moth and cigarette beetles may come into your home on their own. You may see them early on and be able take steps to prevent a pantry pest infestation.
But most pantry pest infestations start accidentally. These pests enter food in processing plants, storage facilities, and grocery stores, chewing through packaging. When you buy the product, it is already contaminated. Then you put it in your pantry, and whatever pantry pests are inside can move from one food item to another until your whole pantry has been overtaken.
With the variety of pantry pests in Northern Virginia, almost any food item can attract and sustain at least one type of pest. The most common foods for pantry pests include anything grain-based such as flour, rice, cornmeal, box mixes, corn, and many types of packaged foods that use these ingredients such as pasta, cookies, crackers, and chips. Spices, teas, beans, chocolate, and nuts all regularly attract pantry pests as well.
The Importance of Pantry Pest Control
Pantry pests are not a source of disease or bacteria, and accidentally eating eggs, larvae, or beetles is not likely to cause much harm. But having pantry pests in food does mean that the food is considered contaminated. In addition to the bugs and eggs, pantry pests living inside food will leave behind shed skins, feces, and dead bugs. Webbing from moth larvae will also collect additional dust.
In large infestations this buildup of dirt and debris can result in unpleasant smells and visible contamination that makes food that has been impacted by pantry pests physically inedible, even if there are not outward signs. However, any food that visibly has bugs in it should be thrown away.
Unfortunately, simply throwing contaminated food away as you find it is often not enough to get rid of pantry pests since they have likely already spread to other food items in your kitchen. As you buy more food, the infestation will continue to grow.
To avoid having to throw out all of your food, which can be costly and wasteful, active pantry pest control is necessary, although this too must be done carefully to avoid further contaminating your food with any pest treatments. This is why professional pest control is always the safest method for dealing with pantry pests.
Ongoing Pest Control to Prevent Pantry Pests
For the pantry pests that fly into your home, the best preventative steps start by keeping pests out all together. This is where a pest protection plan from ExtermPRO is helpful. Our ongoing pest control uses either bi-monthly or quarterly visits to manage and prevent pests, including pantry moths and beetles.
During a visit, we will:
Inspect – We will discuss any pest problems you have been noticing and perform an inspection of the exterior of a property to look for any weak points or collections of moths and beetles that could become pantry pests that they get inside.
Apply Treatment – We apply our eco-friendly treatments around the exterior of your home. These long lasting treatments prevent beetles and moths from crossing over to get inside and eventually into your pantry.
Target Additional Treatment – If you have been experiencing specific problems with pantry pests, we can also include extermination as part of your protection plan guarantee.
These plans also work effectively against other pests that may cause issues in your pantry such as ants, flies, rodents, and roaches. When coupled with preventative steps like avoiding expired food and storing the food in your pantry in airtight plastic containers, our pest protection plans can help you effectively avoid pantry pests in your kitchen.
Pantry Pest Extermination Services
When you open a bag of food to find pantry pests crawling around inside, stored food pest extermination from ExtermPRO is the best way to locate and remove all of the pantry pests in your kitchen. Our extermination process is adapted to your home.
We will find the source of pantry pests, including what food items they are drawn to and how they are getting into your home. From there, we can begin a treatment process to eliminate these pests. Because we are often working in your kitchen, safety is a top concern. We will help you decide what foods you can keep and what should be thrown away to maintain your family's health, and navigate any potential concerns with pest control treatment.
We can also provide personalized information on how you can keep pantry pests away in the future based on any potential issues we saw during treatment.
Commercial Pantry Pest Control
Anywhere there is food, there could be pantry pests and many commercial properties in Gainesville are equally at risk for a pantry pest infestation. We can work with:
Restaurants
Grocery Stores
Schools
Hotels, and More
Pantry pests in your business are a hazard that can threaten your profits. Pantry pest extermination for commercial properties and ongoing pantry pest control from ExtermPRO will help keep any potential issues with beetles and moths in stored food under control in your business.
Why Choose ExtermPRO for Pantry Pest Control
Pantry pests are a small bug that can have a significant impact on your health and finances when they get into your home. Our team at ExtermPRO has many years of experience dealing with these pests and the challenges they present. We know that those who have pantry pests want to be sure that all bugs are effectively removed without any risk to themselves or their family.
At ExtermPRO, we are your neighborhood pest control team that is also armed with the most effective solutions in pest control.
When you rely on us to get rid of stored food pests at your home or business we, provide:
Friendly and Professional Service – We are able to answer all the questions you may have about pantry pests and are specific pest control methods. We can also provide suggestions for pest prevention around your home and the reassurance you need to know your home is free of pests.
Satisfaction Guarantee – We back our pest treatments with a 100% Satisfaction Guarantee so that you are never left dealing with pests on your own. A large scale pantry pest infestation can sometimes require multiple treatments to get pests at all of the various life stages and we will come to continue to provide treatment until we can be sure pantry pests are gone.
Licensed and Insured – ExtermPRO is licensed and insured to provide high quality pest control in Northern Virginia that meets all the standards for safety and quality.
With our comprehensive pest control services, you can call on ExtermPRO for any issue you may be facing with bugs in your kitchen. Our fast response and service that is dedicated to your peace of mind is here to keep your home safe.
Keep Your Pantry Free of Bugs – Contact ExtermPRO to Get Started
You should be able to trust that the food that is in your pantry is safe and healthy – at least in terms of bugs. If any pests are living in your kitchen, get them out quickly with ExtermPRO's kitchen pest control. Set up a free evaluation when you call us today.
---