House Centipede Control in Northern Virginia with ExtermPRO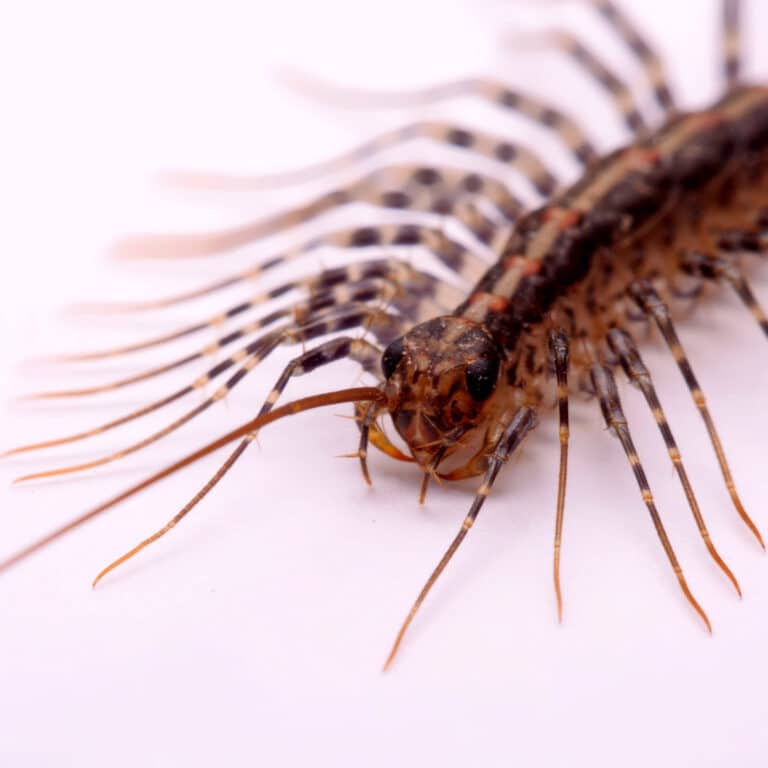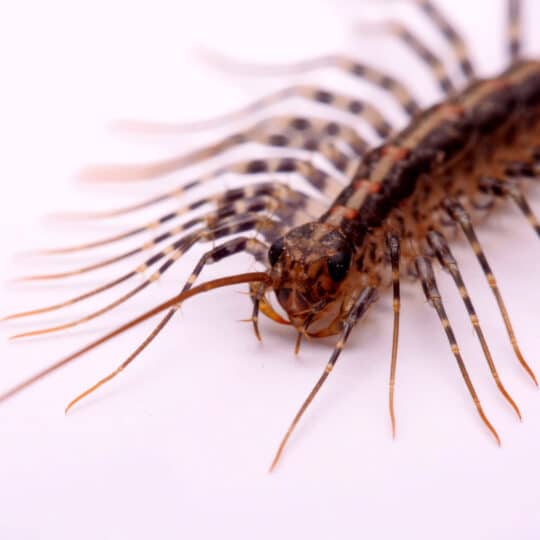 Despite their seemingly hundreds of legs and alarming appearance, house centipedes are actually a "helpful" insect. They eat other more harmful bugs that often cause problems in homes. But living with centipedes on your property is still distressing and can indicate a larger pest problem that we need to solve.
ExtermPRO is a pest control company serving Gainesville, Bristow, Centreville, and the surrounding area with solutions to address both house centipedes and the pests that attract them. We offer residential and commercial pest control with a range of house centipede control methods to provide long term protection from pests. Learn more about our one time and ongoing pest control by calling us at 571-620-1168.
Why Are House Centipedes Considered a Pest?
House centipedes are a harmless pest. They do not bite and will not cause damage to your home or belongings. But they are in fact still a pest. Their appearance is part of this reputation. They have 15 legs and long bodies with two antennae and two rear appendages that make them seem even longer. The average centipede runs at a speed of 1.3 feet per second, which is startling when you see them racing across a surface.
The other reason that house centipedes are a pest is that they indicate a larger problem with bugs in your home. Centipedes are carnivorous. Their food sources include cockroaches, silverfish, moths, spiders, crickets, and even bed bugs. They can come into a property looking for food, and are more common if other bugs are present.
Once they move in, house centipedes will live in dark and damp places, such as bathrooms, crawl spaces, and under kitchen sinks. Because of these hiding spaces and the fact that they hunt for prey at night, house centipedes can often live inside for quite some time before you notice them unless you happen to catch them scurrying across the floor as they enter.
How We Use Ongoing Pest Control to Get Rid of Centipedes
Many people will kill a centipede with a tissue and hope that gets rid of the problem. Unfortunately, this solution does nothing to fix the reason why centipedes are inside your home. The pests that served as the centipedes' food source are still there and the openings then centipedes used to get from your house into your home are still open.
To solve the problem in the long term, our centipede control at ExtermPRO involves comprehensive pest control. This has the advantage of getting rid of centipedes, as well as all the other pests that might be putting your family or property at risk and attracting them to your home in the first place.
To get rid of centipedes, our pest control process includes:
Inspect the Property – We first identify the scope of the centipede problem, including where they are living and what their food source is. This enables us to create a tailored plan for treatment.
Get Centipedes Under Control – The next step is to eliminate centipedes inside the home and address any significant outdoor populations. We apply treatments in strategic areas to help reduce their numbers.
Manage Other Pests – Our treatments also eliminate cockroaches, ants, moths, and other pests that centipedes are feeding on so that centipedes are less tempted to come back into your home.
Create a Protective Barrier Around the Property – The final step is to use treatments to create a seal around your home. We put these treatments around doors, windows, and the foundation of your home where small holes provide entry points for centipedes and other bugs.
Our ongoing pest control is available as bi-monthly or quarterly pest control. Bi-monthly pest control offers effective pest control year round against centipedes and all of the pests that attract them, proving effective in even the most high risk areas for pests. With our long lasting treatments, quarterly pest control is also a dependable option for many homes in Gainesville.
One Time Interior Pest Control for House Centipedes
For homeowners that are currently experiencing an advanced infestation of house centipedes, one time pest control can get the centipedes out of your home fast. We use a similar process to our ongoing pest control, starting with an inspection to identify where centipedes and their prey are hiding. Then we can apply safe treatments to those indoor areas and to the barriers centipedes are likely to cross.
As the centipedes interact with the treatment, their numbers will reduce. These treatments also target other pests to lessen the chance of a recurrent infestation.
Why Choose ExtermPRO for Pest Control in Gainesville, VA and Beyond?
Treating house centipedes requires the pest control professionals to use treatments that manage pests on multiple levels, eliminating both the centipedes and their food sources. Our comprehensive bi-monthly and quarterly pest control at ExtermPRO makes us the best local choice for house centipede control.
We have experience with all the local pest species. We know how they get into homes, where they hide, and what we need to do to keep them out. In addition, we offer:
Eco-Friendly Pest Treatments – Besides your comfort, your family's safety is our first priority. We use specially designed treatments that are effective against bugs, but safe to apply around your family and pets, even for interior use.
Control and Prevention – We can respond to a pest problem at any stage, although prevention is our preferred method. This gives ongoing management for pests to reduce the chance you will ever have a pest problem.
Satisfaction Guarantee – Our services are guaranteed. If you continue to see house centipedes after we complete a treatment, we return for follow up work until you are satisfied and confident that your home is pest free.
We provide our pest control to homes and businesses throughout Northern Virginia with solutions that adapt to your property type. The communities we serve include Gainesville, Bristow, Warrenton, Haymarket, and other nearby areas.
Contact Us to Start Eliminating House Centipedes
If you have been startled by a house centipede inside your home and are worried there might be more on your property, there is no reason to stress over the situation. ExtermPRO has the services that can put a stop to your pest problem for good. Reach out to our team at 571-620-1168 to schedule a convenient time for one of our pest professionals to come to your home.
---